Save Big with Amazon Student.
The Amazon Student program was created exclusively for college students, offering many great benefits, including the opportunity to win scholarships toward tuition and reduce textbook costs. It offers a six month free trial (with the option to cancel at any time at no cost), providing free two day shipping on most products, exclusive student giveaways, deals and promotions, and the ability to stream a large library of movies, TV shows, and music.

You Can Do It!: The Merit Badge Handbook For Grown-up Girls.
by Lauren Catuzzi Grandcolas, Yvette Bozzini, and Julia Breckenreid Author Lauren Catuzzi Grandcolas encourages women to embrace their aspirations and, in turn, build self esteem. A special chapter on going back to school gives advice for continuing your education to re-entry women.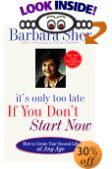 It's Only Too Late If You Don't Start Now: How to Create Your Second Life at Any Age.
by Barbara Sher
Shattering the myth that turns midlife (or any age) into a crisis, this provocative guide is packed with sage advice. Readers gave it five stars: "Should be mandatory reading for anybody starting to waver at about 40." "An invaluable companion to the second half of your life." Barbara Sher's honest and down-to-earth style makes her easy-to-read and easy-to-understand. A more positive way to consider your life and everything in it.

Going Back to School: Survival Strategies for Adult Students.
by Frank Joe Bruno
In some ways, the adult returning to college will find the experience much easier than it would have been in his or her youth, to the extent that the "mature student" will wonder why everyone doesn't wait till adolescence is long gone before engaging with lectures and majors and essays and exams. But while the distractions of youth may be fewer, your certainty about the goal greater and pursuit of it more dedicated, there are complications to adult education, and every bit of preparation helps. This book is packed with advice and success strategies for the returning student, including how to strengthen study habits and prepare for exams, sharpen writing and public speaking skills, and juggle responsibilities of family, job, and school.

Never Too Late to Learn: An Adult Student's Guide to College.
By Vicky Phillips
Adults are returning to college in record numbers, and these changing demographics means college is not just for kids anymore. This popular guide advises older students on ow to find the right program, maximize transfer credits, creatively finance their educaton, locate distance learning opportunities, take standardized tests, and balance a busy schedule. The author is a pioneer in the field of adult education and distance learning and has helped over 17,000 adult learners go back to college.

The Adult Student's Guide to Survival and Success.
by Al Siebert Fourth Edition
The popular guide tells what help is available, how to confront fears and concerns, how to choose a program and get financial aid, and provides tips on gaining family support and getting excellent grades. The fourth edition shows how to develop the abilities needed to gain an advantage in the competitive workforce, and document a porfolio. The Adult Student's Guide was the first book written for adult learners in 1982.

How to Be a Successful Online Student.
by Sara Dulaney Gilbert Over 85 percent of public universities offer distance learning opportunities. This guide explains how distance learning really works, and how to make the most of online learning tools and resources, with expert advice on which subjects are perfect for online study and how to become a successful cyber student (including tips on setting up an independent study schedule and sticking with it.) With more and more univerities offering full degrees online, here's how to be prepared.

The Success Manual for Adult College Students.
by Mike Doolin
Third edition. Go back to college almost full time in your spare time, while still enjoying a career, family, and fun. Hands-on guide witten by a former adult student turned college instructor filled with practical, real-world help for working adult students. Previous editions received heads up reviews for the manual's refreshing and practical style – deemed a "must read" for adults returning after several years.
The Pathfinder : How to Choose or Change Your Career for a Lifetime of Satisfaction and Success.
by Nicholas Lore
For the millions of people who are looking for the perfect job for them, "The Pathfinder" guides them through uncertainty and confusion, straight to the goal of selecting a final career direction. Through more than 100 self-tests, exercises, and other diagnostic tools, this guide helps readers uncover their natural aptitudes, major interests and values, and ultimate goals.
You Can Do It: A Guide for the Adult Learner and Anyone Going Back to School Mid-Career.
by Harry G. Turner
Facing the constant threats of corporate downsizing and restructuring, many people are finding that midway through their careers they need to go back to school to sharpen job skills and get new knowledge. Without condescension, this book helps these individuals review the learning tools they need to most effectively absorb new information.
College Degrees by Mail & Internet: 100 Accredited Schools That Offer Bachelor's, Master's, Doctorates, and Law Degrees by Distance Learning
by John Bear, Mariah Bear
Far and away the most successful book of its kind, this guide remains unparalleled in its useful tips, friendly tone, and up-to-the-minute information on getting a degree electronically or by mail. The book lists the top 100 accredited programs available through the mail or over the wires, including full contact information (e-mail, website, phone, fax, etc.) and a detailed personal evaluation of the school and its programs. See also Get Your Degree Online.
Getting a College Degree Fast : Testing Out & Other Accredited Shortcuts.
by Joanne Aber
You can't go very far these days without a college degree.Is this how you feel? Do you face limited employment opportunities- have your special dreams been dashed- because you lack the college diploma that can pave the way to a successful career? Do you believe a degree could or would have made the difference in your life? Do you think that achieving a college degree is impossible for someone your age, with your income, and with your family or work responsibilities? If you answered yes to any of these questions, Getting a College Degree Fast can help you reach your goals by outlining the steps you can take right now to obtain a quality degree at any school. See also One Year to a College Degree, and College Credit Without Classes: How to Obtain Academic Credit for What You Already Know.
Chronicle Financial Aid Guide 2005-2006.
Special index includes undergraduate and graduate funding, including awards for the adult student. The directory puts readers in touch with over 50,000 private-sector scholarships, grants, loans, and internships covering every major field of study, from aeronautics to zoology, and clearly lays out the qualifications students must meet.
Winning Scholarships for College.
by Marianne Ragins
By earning $400,000 in scholarship funds, Ragins also won celebrity status (through features in People, Newsweek, and Essence magazines). Ragins shares her scholarship search secrets and shows how to perfect skills in test taking, essay writing, interviewing, and filling out applications.
The Princeton Review Paying for College Without Going Broke: 2006
by Kalman A. Chany Plan ahead to improve your chances of receiving financial aid, calculate your aid eligibility before you apply to colleges, complete the financial aid forms (including FAFSA and the CSS PROFILE), negotiate with the financial aid office, take advantage of the new tax law, and handle special circumstances if you're a single parent or independent student.
Directory of Financial Aids for Women: 2005-2007.
by Gail A. Schlachter
Includes 1,000+ scholarships, fellowships, and internship programs especially for women.
Financing Your College Degree: A Guide for Adult Students.
by David F. Finney
Guide to returning to college for the adult student by a financial aid expert outlines how to use all possible resources to finance your education. Find out what you'll have to pay and how much aid you're eligible for, how to apply for financial aid (including public and private sources), and how to save money by shortening the time it takes to complete a degree.
Free College and Training Money for Women.
by Matthew Lesko
More than $80 billion in government money and private scholarships is available for women who want to go back to school or train for a new position. Find out how to receive $2,000 towards a 2-year degree, get free training and find affordable child care while going to college. Scholarship information includes $1,500 for women over 35 getting graduate degrees; $1,500 for women studying business; scholarships for single parents and much more. Over 800 pages.
The Guerrilla Guide to Mastering Student Loan Debt : Everything You Should Know About Negotiating the Right Loan for You, Paying It Off.
by Anne Stockwell
Skyrocketing tuitions have become a national concern. The average four-year college degree now costs more than $35,000, and that sum is growing at a phenomenal rate, forcing unprecedented numbers of college students into student-loan debt. In 1995, the Educational Resource Institute issued a report warning that borrowing has exploded to record levels and is expected to double in five years. The first comprehensive guide to researching and repaying student loan debt, this lively resource gives college graduates, as well as students, expert advice from loan officers, legislators, attorneys, collection agencies, consumer activists, and students who've been through the loan process themselves.
How to Earn a College Degree Without Going to College.
by James P. Duffy
Obtain a college degree through life experience, independent study, and examinations. 600 programs in 271 fields. See also How to Earn an Advanced Degree Without Going to Graduate School and Campus Free College Degrees.
The Internship Bible.
by Mark Oldman and Samer Hamadeh
Guide provided by the only nationally recognized experts on internships and the founders of Vault, Inc., a leading authority and resource for career information. Provides the most current information on more than 100,000 internships.
Find books by title or keywords (i.e., financial aid, scholarships, distance learning, CLEP or College Level Examination)
For Titles, please input full title for best results
Find books by keyword:

Scholarships for Re-entry Students: Grants and Retraining Assistance for Adults Returning to College. Although many adult or "nontraditional" students hear about help to go back to school, continue their education, or train for a new career, they are often unaware where to find it or what programs they may be eligible for. This special report provides information on scholarships, grants, and private organizations and associations that aid adults returning to college. Sources of aid include awards especially for re-entry students, women, single parents, and adults re-entering the work force, including money from federal, state, and private organizational and academic programs. Available for immediate download.

CLEP Official Study Guide, 16th Edition.
Eearn college credit at over 2,900 participating colleges and universities with the CLEP (College Level Examination Program). Demonstrate college-level proficiency in over 34 subject areas in English, Business, the Natural and Social Sciences, and the Humanities. The 2004 edition provides full information on the computer-based CLEP exams, with descriptions and examples of all thirty-four exams, a tutorial CD-ROM, and plenty of test-taking tips. More CLEP Subject Study Guides. Find out more about the CLEP.

New Beginnings : A Guide for Adult Learners and Returning Students.
by Linda Simon
Specifically addressing adults by relating to and drawing upon their life experiences, this friendly and supportive guide to achieving college success helps adults assess their own strengths as a learner, better manage their time, hone good study skills, and write effective college papers. Incorporating advice from adult learners and advisors throughout, the book focuses on strategies for reading different kinds of material, guides users through the research process, and offers a step-by-step approach to tackling the writing process.

Traditional Degrees for Nontraditional Students : How to Earn a Top Diploma from America's Great Colleges at Any Age.
by Carole S. Fungaroli The number of adults completing bachelor's degrees later in life is at an all-time high. Many universities have targeted this market with expensive, Internet-based programs. In this essential guide, Carole S. Fungaroli challenges the conventional wisdom that advocates distance learning for adult students. She argues that adults are best suited to a traditional college experience, and she insists that even those with children, jobs, and mortgages can earn a standard, four-year degree on a great college campus.

How to Earn a College Degree: When You Think You are Too Old, Too Busy, Too Broke, Too Scared.
By E. Faith Ivery, Ed.D
Third Edition. Paperback, 107 pp. $19.95. This popular book is an educational planning guide for adult students that helps them make choices regarding life direction and save time and money in completing their degrees. Chapters discuss goal setting, learning styles, selecting a college, transfer credit and getting college credit for what you already know. A distance learning directory is included, as well as information on online learning, telecourses, and "banking" college credit.

The Adult Student's Guide, 2nd Edition.
by Leigh Grossman (Compiler), Lesley McBain (Compiler) The only comprehensive guide for the nontraditional student-with listings for more than 600 traditional adult bachelor's degree programs. Going to college is a challenge…especially when you've been out of the classroom for years, working or raising a family. This is the essential resource for returning students-with information on costs, admission requirements, application procedures, financial aid, life-experience credits, and much more.
Also included are tips for balancing studies with other obligations, and making your college experience as successful as it can be. Whether you're trying to revive a stalled career, make more money, pursue a longtime dream, or just broaden your horizons, returning to school is a step in the right direction-and the second edition of this comprehensive handbook can guide you along the way.